*Feature image credit Stambol
"Tell me and I forget, teach me and I may remember, involve me and I learn." — Benjamin Franklin / Confucious
Looking back through history, the transfer of knowledge has evolved with the technology we've had accessible to us at the time. Starting with carved images and symbols, to spoken word, written language, print, photography, radio, video, then finally into the massive web of digital media we have today. Yet through it all, this type of knowledge transfer has lacked dimension. These mediums are like shadows on the wall of Plato's cave. Abstractions of reality. By their very nature they are incapable of delivering an exact representation of the multi-sensory information around which the human experience is constructed. Simply put, we exist in reality as three dimensional beings, so why on earth, if we had the tools, would we choose to abstract the transfer of knowledge to two dimensions?
For the better part of the last century, a passionate group of forward thinking individuals has been pioneering the creation of technologies that enable this coveted transfer of spatial, experiential knowledge. Their work has led to the development of immersive computing technologies like Virtual Reality (VR), Augmented Reality (AR) and Mixed Reality (MR), collectively known as XR. Until the last five years, XR technology has been inaccessible and prohibitively expensive for most use cases. Thanks to significant improvements in the power and price of sensor, display and processing tech, heavily fueled by the smartphone wars, and focused efforts by visionary organizations like Oculus, Samsung, Microsoft, Sony and others, the dream of accessible XR has become reality and is quickly approaching mass market potential.
As we've seen with the adoption of many new technologies like personal computers, the internet and mobile phones, their growth has been fueled by enterprise environments where capital is available to purchase the equipment and a direct ROI can be realized. This same trend is happening with XR. SuperData, a Nielsen company, calculated that "XR will save enterprise $13.5 Billion in training costs" in 2019 alone. (Ref) In an effort to simplify the tremendous innovation happening in the XR training space, at Axon Park, we've developed the "Five Key Areas of Enterprise XR Training" that we use to help leaders identify opportunities to leverage XR within their organizations.
The Five Key Areas are as follows: Health & Safety, Human Resources & Culture, Operations & Compliance, Soft Skills, and Technical Skills. Now, let's jump into each and explore a few examples.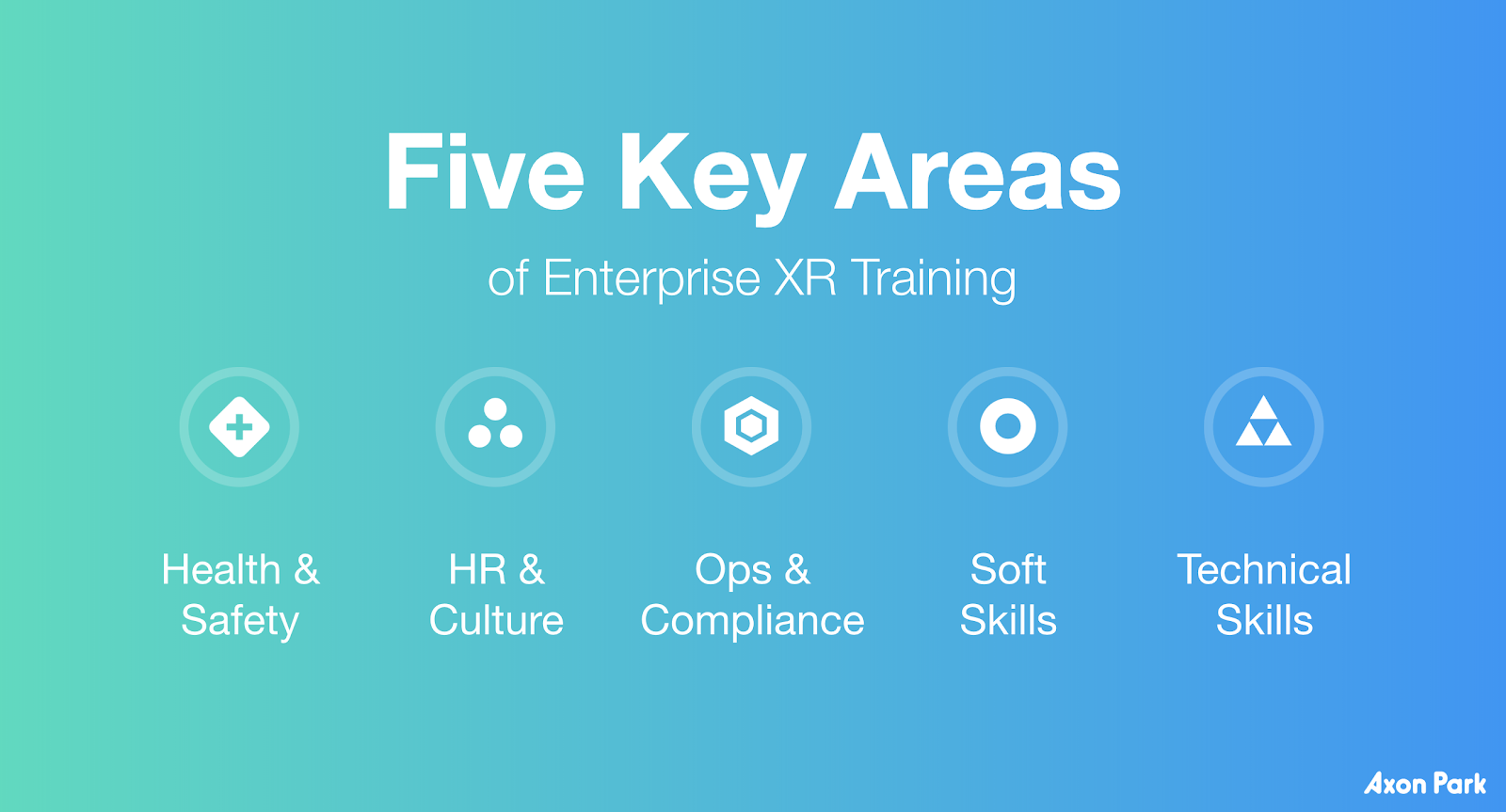 Health & Safety XR Training:
This may include training with hazard identification, safety procedures, emergency action plans, utilization of personal protective equipment, hazard communication, first aid and a wide array of other areas.
A leading VR training company Strivr recently worked with Verizon to create a training for retail store employees focused on how to react if an armed robbery occurs in one of the Verizon locations. After the training, 97% of users who went through the experience felt prepared to handle this type of situation.(Ref) This preparation could mean life or death in some cases.
Another experience was created by Shell and Immerse to teach employees how to respond if one of their oil trucks went up in flames. In this simulation, team members enter a virtual training environment where they learn the appropriate steps to put out the fire and run through safety protocols. Imagine trying to conduct this training in real life. It would require lighting a truck on fire, burning through expensive resources and putting the trainees in serious danger. Any time you can protect your employees from hazardous situations is a good time to consider the use of XR.
HR & Culture XR Training:
This may include anti-discrimination and retaliation, sexual harassment, bystander intervention, ethics and conduct, unconscious bias, diversity and inclusion, candidate and employee assessment and onboarding and orientation.
Companies like Regatta and Vantage Point have been creating simulations to put users into situations where they can viscerally learn about inappropriate behavior like harassment or discrimination in the workplace. By experiencing these situations first hand, employees learn how to react in the right way and in accordance with company policy. This can be used to replace or supplement existing methods of training and enables a large scale of users to experience a range of situations first hand.
Another company called DebiasVR provides tools to help individuals identify and remove their implicit biases. Given the safe nature of XR, people can learn about themselves in this environment before causing harm to others through their unconscious actions. These immersive simulations allow interactions to be analyzed to help people understand and overcome ingrained beliefs they hadn't been aware of in the past.
Operations and Compliance XR Training:
This might include guidance during industry specific compliance processes, retail and warehouse procedures, remote assistance, data analysis and process visualization. By wearing a headset, individuals can receive information intuitively, hands-free and just-in-time to accurately execute a specific task, saving days, weeks or even months that would otherwise be spent on training.
Upskill worked with the General Electric renewable energy team and saw a 34% increase in productivity while assembling wind turbines using their XR platform.(Ref) Instead of needing to memorize complex processes, an augmented layer of data is contextually placed on the real world to provide intuitive instructions in real-time.
Eon Realty, one of the longest standing XR companies, recently worked with SBS transit to help their technicians get up and running with XR during maintenance. With the integration of this solution they saw a 30% gain in efficiency during maintenance operations.(Ref) That's 12 hours saved out of a 40 hour workweek!
Once companies see this magnitude of performance increase, how could they go back to the "outdated" methods of watching videos, reading paper manuals or sitting in a traditional classroom?
Soft Skills XR Training:
This might include emotional intelligence, difficult conversations, conflict resolution, decision making, effective communication, creativity, teamwork, problem solving, de-escalation and empathy training.
One of the leading enterprise XR training companies, Talespin, has been developing a suite of training tools to improve soft skills in the workplace. For example, their CoPilot platform enables people to interact with a virtual human to practice high intensity situations where emotional intelligence plays a critical role in the outcome. The user actually speaks out loud, saying the phrases they would use during this type of interaction, then the AI system recognizes what they are saying and "Barry", the virtual human shown below, responds accordingly.
The team at Talespin has been seeing promising results while working with its clients, like a 22% increase in decision making accuracy compared to prior training methods, a 400% increase in ability to elaborate on subject matter and a 5x annual reduction in training costs per employee. Results from Tailspin's work with Farmers Insurance also shows that employees find VR training to be engaging, with 82% of VR-trained employees giving positive feedback on the experience, and reporting they felt more prepared to go out in the field. With these results, how could XR not become a major part of the training future?
Technical Skills XR Training:
This might include things like flight simulators, oil rig technician training, surgical training, underwater turbine maintenance, or practically anything else that requires specific technical knowledge.
One outstanding example is from early AR pioneers ScopeAR. In their work with Lockheed Martin, they were able to achieve an 85% reduction in overall time required for training and a 35–50% reduction in technician time overall.(Ref) When you're building advanced spacecraft, getting team members up and running over 5x faster and executing nearly 50% faster would likely provide the extra edge needed to blow past the competition.
ITI and Serious Labs created an experience where they let users "unleash the cranes" through immersive simulations that provide an accurate feeling of what it's like to operate a massive construction crane. Imagine the amount of resources that go into learning how to operate a multi-hundred foot crane and all the safety risks associated. Examples like these, where users are learning how to use heavy machinery, are typically a place to start using XR in the training process.
This overview represent just a fraction of the rapidly growing XR training ecosystem. XR is on a clear track to continue expanding quickly into 2020, enabling companies to harness the power of intuitive experiential learning. The hardware and software infrastructure is only continuing to improve with massive investments in R&D from global companies, and it's just a matter of time before XR finds its way into the daily lives of employees globally. Companies who get involved now will have a leg up on the competition, and we expect that those who have been seeing early success will continue to double down.
Now that XR technology is broadly available and affordable, organizations are limited only by their imagination to put these next-generation trainings into practice.
Taylor Freeman, Founder of Axon Park
About Axon Park:
Axon Park empowers organizations and individuals to harness the power of VR & AR (XR) training.
***
This post is a followup to my keynote at AVRA Days.