I can't tell you how many times I've heard people say something like, "Oh, VR has been around forever and will never catch on". Whenever someone says this to me, I like to greet them with a smile and share the 1995 article from Newsweek titled "Why the internet will fail".
Like we've seen with personal computers and mobile devices, society is constantly evolving to utilize the latest technology to enable better communication, productivity and access to information. Do you really think mobile devices were the last platform shift? Of course not, and now the proof is in the numbers. Why would we ever choose to interact with our information through a tiny, flat screen when we have access to fully immersive and spatial displays. Technically speaking, you could project dozens, hundreds, or even thousands, of phone sized screens all around you through spatial computing.
A recent report from PricewaterhouseCoopers (PwC), the second largest professional services network in the world with $43 Billion in annual revenue and 280,000+ employees, recently put out a report highlighting our burgeoning VR industry as the fastest-growing segment of the entire media landscape. This means VR is growing faster than cinema, data consumption, sports, music, radio, podcasts, esports, video games and any other media we consume globally. By all accounts, it definitely appears to be "catching on".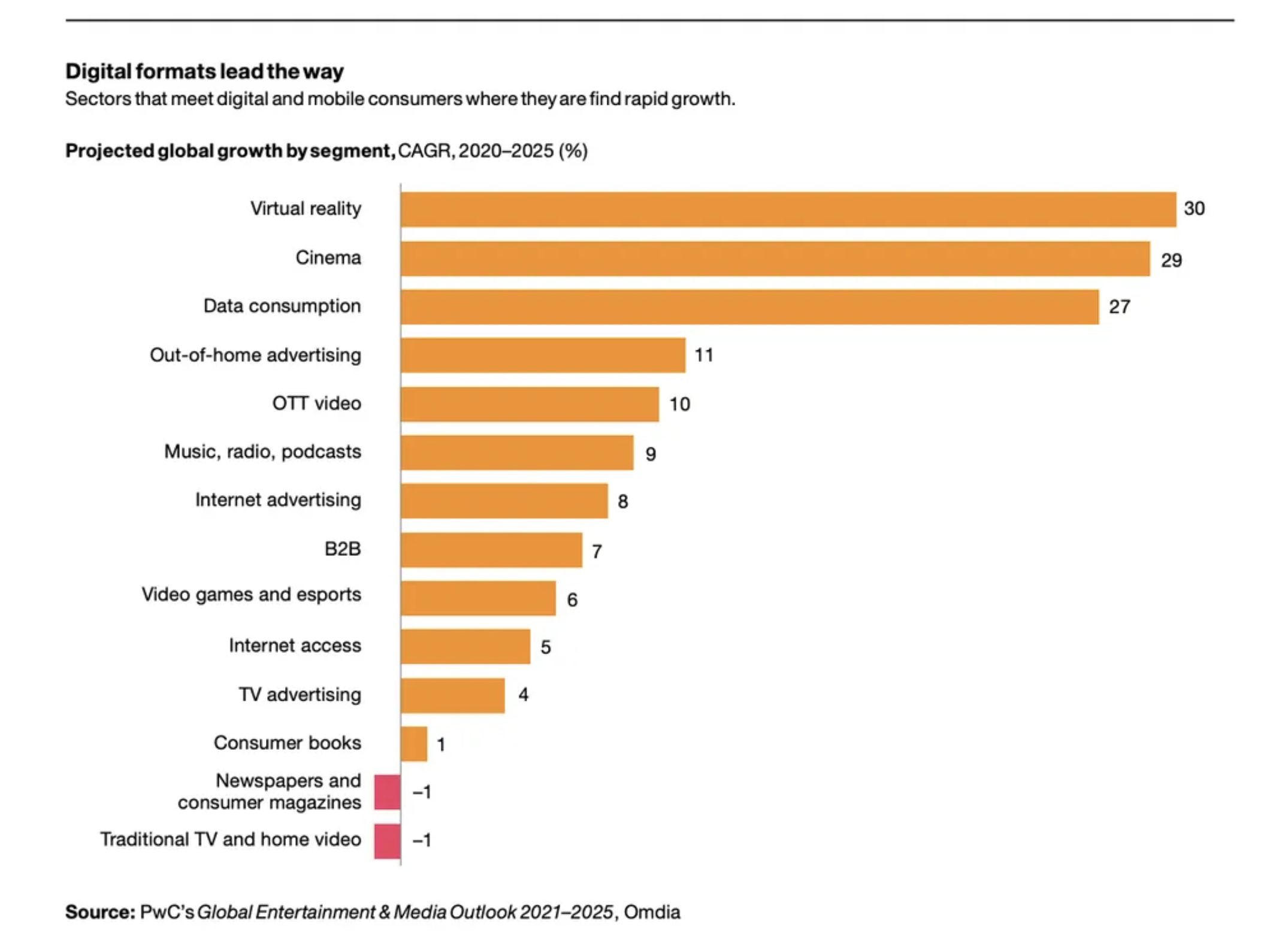 What does this mean for the future of education? Well according to Jeff Maggioncalda, the CEO of Coursera, "the big thing [for education] will probably end up being telepresence in virtual reality." If the pandemic taught us anything, it's that many of the things we used to do in person can be done virtually. Over the last year and a half, we've seen a multi-year acceleration of technology across almost every industry, with some people in the medical space telling me they think it has accelerated adoption of technology in their industry by more than 10 years.
At Axon Park, we are passionate about supporting this next generation of computing by providing society with a flourishing virtual campus, full of premiere quality interactive and experiential learning content (you can explore our current courses here). This report from PwC is just the beginning. The future is virtual!